CITADEL AIRSOFT CQB CENTER & PROSHOP
Pro Shop Hours
Sunday
11:30am till 10pm
Monday
CLOSED
Tuesday
11:30am till 10 pm
Wednesday
11:30am till 10 pm
Thursday
11:30am till 10 pm
Friday
11:30am till 10pm
Saturday
11:30 till 10pm
Citadel - Open Skirmish Times
Registration begins one hour earlier
Sunday
6pm till 10pm
Tuesday
6pm till 10pm
Friday
6pm till 10pm
Saturday
6pm till 10pm
Flashpoint - Open Skirmish Times
Registration begins one hour earlier
Saturday
12pm till 4pm
Sunday
Closed
Paperwork
Both of these are PDF forms you can fill out online and hit print
Membership Form
Insurance Waiver
Location and Directions
The Citadel & Pro-Shop
34 Suffolk St. Worcester MA 01604
Flashpoint - Outdoor
100 Worcester Providence Tpke, Sutton MA 01590
Contact Us
Email:
info@citadelairsoft.com
Phone: 877-879-2904
Membership is $20 per year*
Skirmish Fee is $25 on Friday/Saturday/Sunday**
*A membership is required to play
**Tuesday nights 2 members play for $20 and Friday Women play for free
Search Articles

0
Announcements
Harassment and bullying of individuals and employees are against federal, state and local policy, and are not tolerated by Citadel Airsoft, LLC. Citadel Airsoft is committed to providing all individuals with a safe and civil environment in which all individuals are treated with dignity and respect. To that end, Citadel Airsoft has in place policies, procedures, and practices that are designed to reduce and eliminate bullying and harassment and procedures to deal with incidents of bullying and harassment. Bullying and harassment of individuals including members, employees, and volunteers will not be tolerated.
Citadel Airsoft prohibits harassment, bullying, hazing, or any other victimization of individuals based on any of the following actual or perceived traits or characteristics, including but not limited to age, color, creed, national origin, race, religion, marital status, sex, sexual orientation, gender identity, physical attributes, physical or mental ability or disability, ancestry, political party preference, political belief, socioeconomic status, or familial status.
This policy is in effect while members, volunteers, and employees are on business property; while in business-owned or business-operated vehicles; while attending or engaged in business-sponsored or related activities; and while away from the business if the misconduct directly affects the good order, efficient management and welfare of the business, employees, volunteers, or members.
If, after an investigation, a member or volunteer is found to be in violation of this policy, the individual shall be disciplined by appropriate measures which may include suspension from the business or related activities, expulsion, and/or termination of membership. If, after an investigation, an employee is found to be in violation of this policy, the employee shall be disciplined by appropriate measures which may include suspension or termination.
When looking at the totality of the circumstances, harassment and bullying mean any electronic, written, verbal, or physical act or conduct toward an individual or group of individuals which is based on any actual or perceived trait or characteristic and which creates an objectively hostile environment that meets one or more of the following conditions:
Places the individual in reasonable fear of harm to the individual's person or property;

Has a substantially detrimental effect on the individual's physical or mental health;

Has the effect of substantially interfering with the individual's use of business-related services; or

Has the effect of substantially interfering with the individual's ability to participate in, enjoy, or benefit from the services, activities, or privileges provided by membership at Citadel Airsoft.
"Electronic" means any communication involving the transmission of information by wire, radio, optical cable, electromagnetic, or other similar means. "Electronic" includes but is not limited to communication via electronic mail, social media, internet-based communications, pager service, cell phones, electronic text messaging or similar technologies.
Harassment and bullying may include, but are not limited to, the following behaviors and circumstances:
Repeated remarks or encouragement of such conduct to demean or tarnish the reputation of any individual or group;

Conduct which has the purpose or effect of creating an intimidating, hostile, or offensive environment including implied or explicit threats;

Demeaning jokes, stories, or activities directed at an individual or group; and/or

Unreasonable interference with an individual's use of the business, business-related activities, membership, or employment.
Sexual harassment means unwelcome sexual advances, requests for sexual favors, or other verbal or physical conduct of a sexual nature when:
Submission to the conduct is made either implicitly or explicitly a term or condition of the individual's employment, membership, or other business-related benefits;

Submission to or rejection of the conduct is used as the basis for business-related decisions affecting that individual; or,

The conduct has the purpose or effect of creating an intimidating, hostile, or offensive environment.
Any person who promptly, reasonably, and in good faith reports an incident of bullying or harassment under this policy to an owner or employee shall be immune from civil or criminal liability relating to such report and to the person's participation in any administrative, judicial, or other proceeding relating to the report. Individuals who knowingly file a false complaint may be subject to appropriate disciplinary action.
Retaliation against any person who has filed a bullying/ harassment complaint or assisted/participated in a harassment investigation is also prohibited. Any individuals who knowingly file false harassment complaints or gives false statements in an investigation shall be subject to discipline by appropriate measures, as shall any person who is found to have retaliated against another in violation of this policy. Any individual or volunteer found to have retaliated in violation of this policy shall be subject to measures up to and including expulsion from the business and termination of membership. Any employee found to have retaliated in violation of this policy shall be subject to measures up to and including termination of employment.
Citadel Airsoft will promptly and reasonably investigate allegations of bullying or harassment. The owners will be responsible for handling all complaints alleging bullying or harassment, including any made by any employees or volunteers. The owners are also responsible for organizing training programs for staff and volunteers. The training will include how to recognize harassment and what to do in case an individual is harassed. It will also include effective harassment prevention strategies.
Citadel Airsoft will annually publish this policy. The policy may be publicized by inclusion in the employee handbook, referenced in membership materials, and on Citadel Airsoft's website and intranet. A copy shall be made to any person at Citadel Airsoft's Pro-Shop located at 34 Suffolk St. Worcester, MA.
Read story →
0 comments
Our lot is not plowed properly and with heavy snow expected until the evening its too hazardous for people to risk driving for a game.
We are open for 2 sessions on Saturday and Sunday!
Read story →
0 comments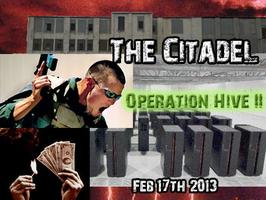 DOORS AT 1pm - GAME AT 3pm
Operation Hive II
A terrorist cell backed by an international arms dealer has acquired the equipment and engineer's necessary to launch a massive Cyber warfare attack on multiple critical networks and utilities in the USA.
A deep cover operative has obtained the location that this attack will be launched from and provided us with the locations of the data cores.It is a hardened data facility hidden in a factory complex.
US Forces with assistance of CIA Tactical Response Group will infiltrate this facility, neutralize any resistance and find the data clusters and detonate short range high damage EMP bombs simultaneously to destroy the equipment and its data in place and keep them from shifting the attack to an alternate site. If the operative is still alive, they will try to assist you with on-site Intel.
Resistance will be heavy and well-armed and anti-personnel traps are strewn throughout the facility.
Failure could mean collapse of multiple critical systems and networks and more attacks are imminent if they are successful.
NOTE
This event will use Medic rules and a death rag will be required.

Team Colors will be strickly enforced and comms are highly recomended.
This is a Mil-Sim eventREGISTRATION: http://ophive.eventbrite.com
Read story →
1 comments
Yes we are open today at 11. We have power, internet, heat. If you are one of the people still without power come on down and play! At least it will warm you up!
Read story →
0 comments
Event Price - $30 (No Membership Required)
Its the day after the World Ended.... with a tide of ravenous dead washing forth over the land to end Mans domain over the earth.
Will you and your friends survive?
Read story →
0 comments
Tango Down Tuesday is now open for ALL members... Not just age 17 and up!
Two members for $20!
Check in starts at 5pm!
Read story →
0 comments
Starting December 1st we are changing our hours at Flashpoint to be Saturday only (From 11AM to 4PM) with all day passes still for sale to keep playing Saturday night at The Citadel!
On Sundays... we have added an afternoon game at The Citadel!!!
Check in at 11AM and the game will run from Noon to 4PM with all day passes available to keep playing Sunday Evening.
(We have a previous private event booked for December 9th! Please be aware of that.)
Flashpoint is located at 100 Worcester Providence Turnpike in Sutton MA 01590
Once again... for the winter we will no longer have a game on Sunday afternoon at Flashpoint, but we will have an afternoon and evening game at The Citadel on Sundays.
The Citadel is located at 34 Suffolk St. Worcester MA 01604.
Read story →
0 comments
Flashpoint IS open and has been running some great games.
So come on down to Flashpoint at 100 Worcester Providence Turnpike (Rt 146) in Sutton and join us from Noon till 4 for open skirmish fun!
Check in starts at 11AM and all day passes are available to continue the fun tonight at The Citadel in Worcester.
Read story →
0 comments
Tango Down Tuesday is ON!!!
Check in starts at 5PM
Remember to follow us on Twitter @citadelairsoft

And remember to add #citadelairsoft to all of your picture and video posts to help us get the word out and Trend on Twitter.
Read story →
0 comments
Show up at The Citadel tonight for our Sunday Night open skirmish and you might win one of the 4 Virus immunity cards we are giving away this week for our upcoming

Contagion Z game Saturday October 27th

at The Citadel.
We will be giving out at least one per game night this week at The Citadel to participants of our Sunday/Tuesday/Friday night open skirmishes!
Read story →
0 comments